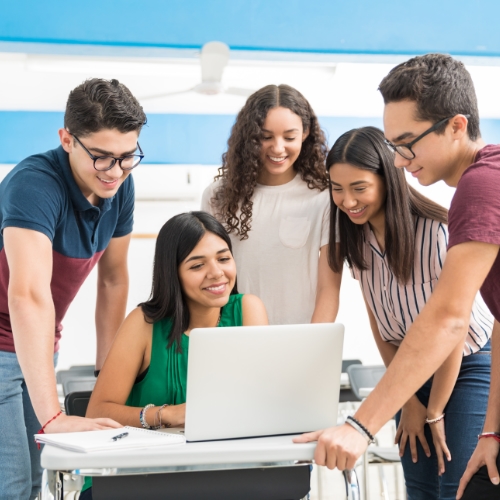 What is Possible with CTE …
Is it possible to combine academics with real-world experience in a career that inspires you? Is it possible to discover future opportunities through industry-related field trips, mentors and internships? Is it possible to leave high school knowing where you want to go and already have a plan on how to get there? YES . . . it is possible!
Whether your plan is to attend college or explore career possibilities within one of today's top-growing industries, Conejo Valley Unified School District's Career Technical Education (CTE) Career Pathways give you the education and experiences to put you on the path toward both college and career. Today is your opportunity to take the first step in our CTE pathways and to receive the guidance, skills and experiences you need to succeed in your unique pathway to the future.

Improves success in college
More likely to go to college or post-secondary program — 79% go within two years; maintain a higher GPA; and more likely to stay in college.
Improves success in work and life
95% of CTE students who did not go to college worked for pay within two years of high school graduation.

Increases Career Readiness
One-third of current job openings require an associate's degree or certificate and nearly all will require real world skills that can be mastered through CTE pathway courses.
Career Technical Education (CTE) provides students with the academic, technical, and real-world knowledge, skills and experience they need to be prepared for a variety of career options. CTE gives students training and skills in many different types of careers in high-growth industries such as science and technology, health care, and business management. CTE programs are personalized, hands-on and let students explore different career fields.

CTE Helps Students Prepare for the Real World
CTE programs give purpose to learning by emphasizing real-world skills and practical knowledge.

CTE Students Get More from the School Experience
CTE students have a significantly greater high school graduation rate than the national average.

CTE Allows Students to Explore More Possibilities
CTE exposes students to careers across the 16 career clusters, including careers students may not be familiar with or may not have ever considered, as well as the skills required for different careers.

CTE Gives Students an Extra Advantage
CTE gives students a head start on both college and careers through specialized classes, mentoring and work experiences in fields where jobs are in demand - like health care, engineering and information technology.